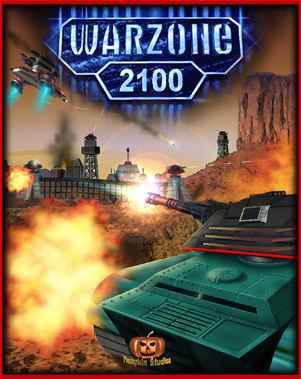 In the late 21st century, NASDA (the North American Strategic Defense Agency) developed and deployed a massive missile defense system, including a network of nuclear-equipped satellites and ground-based launch sites. However, during a routine maintenance check, something went terribly wrong...

While most of the survivors form scavenger bands to survive, one group of people, who refer to themselves as "The Project", seeks to rebuild civilization using pre-war technology.

In Warzone 2100, you command the forces of The Project in a battle to rebuild the world after mankind has almost been destroyed by nuclear missiles. The game offers campaign, multi-player, and single-player skirmish modes. An extensive tech tree with over 400 different technologies, combined with the unit design system, allows for a wide variety of possible units and tactics.

Outside of the story, Warzone 2100 only has a single faction. This limits some of the variety that can be expected from real-time strategy games, although the single faction is very complex. Essentially, Warzone 2100 plays much like Earth 2150 with 3D units and terrain, customizable vehicles, a lack of traditional infantry, use of "research" to acquire new technologies, and the differentiation of vehicles types.
---
Platforms:
Windows, Mac, Linux
Modes:
Single Player, Multi Player, Play Online
Genres:
Real-Time Strategy

---

Studio:
Large Studio / Publisher
Graphics:
3D
Type:
Freeware
Source:
Open
Release:
Full
Age:
All
---
Website
Windows Downloads
| | | | |
| --- | --- | --- | --- |
| Domain: | sourceforge.net | Download: | Click Here |
| Version: | Latest | FileSize: | 0MB |
| Notes: | | Link: | Indirect |