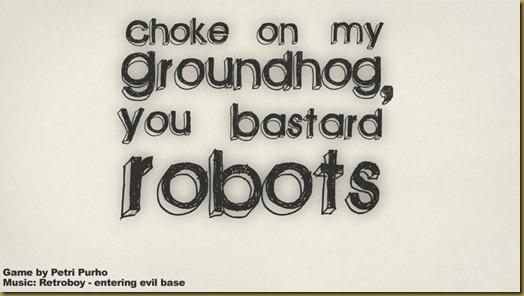 Choke on my Groundhog YOU BASTARD ROBOTS [Edit Game]
Robots are always bastards. Theres no way around it. We build them and they killed us all. Well almost all, Im the Earths last survivor. But with my time traveling groundhog sidekick Im going to destroy the robot liberation army and take back Earth.

Choke on My Groundhog YOU BASTARD ROBOTS is a unique twist on the 2D shot 'em up. Set in a universe hand-drawn on grid paper, the game is at first a clone of Robotron 2084 or Smash TV. However, one you die the first time the uniqueness of the game begins to show itself. When starting a new life the player is joined with a spectral version of themselves for the previous attempt. The previous incarnation fights alongside the player reliving the exact moves employed in the previous level. The number of ghost allies increases with each new life making the player stronger with each death.
---
Platforms:
Windows, Website, Steam-Mac, Steam-Linux, Desura-Linux
Modes:
Single Player
Genres:
Board Games, Action, Card Games, Fighting, First Person Shooter (FPS), Music, Platform, Puzzle, Racing, Real-Time Strategy, Role Playing Game (RPG), Simulators, Sports, Turn-Based Strategy, Roguelike, Casual, Vehicle Simulation Game, Horror, Shoot em up, Point and Click

---

Studio:
Indie
Graphics:
2D
Type:
Freeware
Source:
Closed
Release:
Full
Age:
All
---